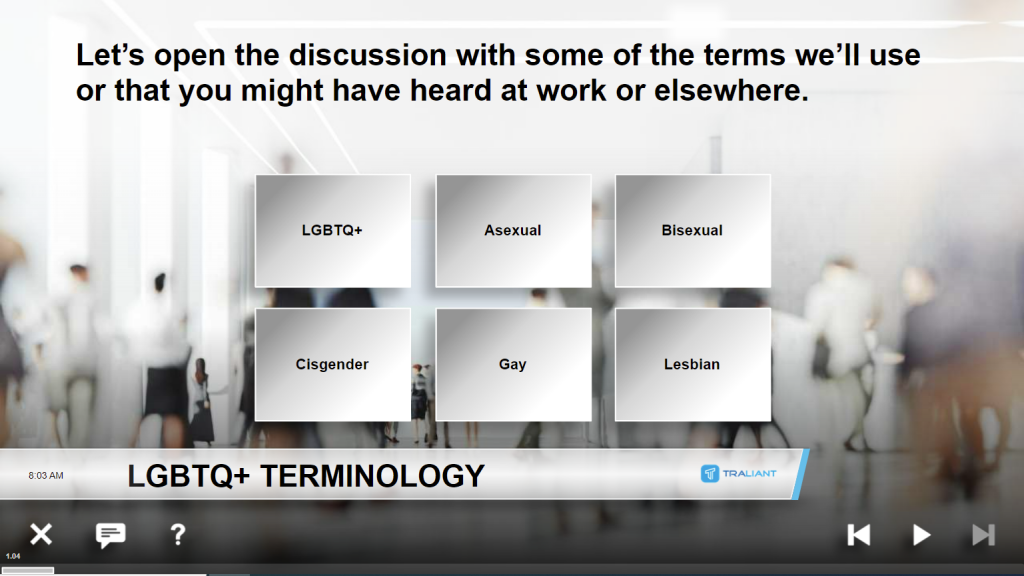 Creating a safe and supportive workplace is essential for LGBTQ employees. Training your team is an effective way to increase awareness, communication and respect.
Studies show that LGBTQ workers often struggle with discrimination and other forms of oppression. They also face social isolation and find it difficult to come out.
Customizable Training
When you are a small or growing business, training your employees on LGBTQ topics is essential to ensure you are taking an inclusive approach. It sends a message that you value everyone and want them to feel safe at work, regardless of their sexual orientation or gender identity.
Providing LGBTQ workplace trainings is not only important for your staff, but can also benefit your business in other ways. Offering training for LGBT topics can help you improve engagement, build trust, and reduce harassment.
You can customize your training to meet your specific needs and make it more engaging. For example, you could have a different instructor present or include more LGBTQ topics.
Using your own experiences as a guide, you can also make sure that the training is relevant to the issues your employees face at work. This can help your employees feel more supported and empowered to speak out.
Boost Engagement
Employees who identify as LGBTQ (lesbian, gay, bisexual, transgender, questioning, queer, intersex, pansexual, two-spirit 2S) are often discriminated against in the workplace. This can include anything from a simple joke or a banter about their identity to outright harassment or violence.
Despite many advances, the LGBTQ workforce is still very much a siloed group that needs to be actively included at work. This means that D&I leaders must be able to develop an intersectional approach that helps them understand all the possible contextual life factors of their LGBTQ employees.
This is especially important for the younger members of today's LGBTQ workforce who have different experiences and needs than older generations. Developing an inclusive strategy for LGBTQ employees can boost their productivity, inclusion, and loyalty to the company or organization they work for.
Build Trust
LGBTQ Workplace Trainings help employees understand their colleagues' diverse experiences and perspectives. These insights lead to better interactions and communication.
Employees who learn about the experiences of LGBTQ+ individuals can be better allies, and this empathetic approach reduces homophobia and transphobia.
As a result, workplaces that are more inclusive and diverse often see better productivity, employee satisfaction, and business performance. EasyLlama offers an LGBT ally training course that meets the needs of today's busy workforce, featuring bite-sized episodes.
Including a diverse range of participants in LGBTQ diversity and inclusion training helps to ensure that the program covers all the relevant areas. It also gives them the opportunity to share their personal opinions and experiences.
Reduce Harassment
Despite significant progress, members of the LGBTQ+ community face discrimination in the workplace. This can take the form of sex-based harassment, discriminatory comments, and physical violence.
Trainings can reduce this type of behavior by informing employees of their rights, responsibilities, and reporting procedures. They can also be a powerful tool for empowering employees to build stronger relationships with their coworkers.
Employees can learn about the unique challenges faced by members of the LGBTQ+ community and how to be an ally. They can also learn how to use proper terminology and avoid assuming someone's gender or sexuality.
These trainings can also increase staff retention, promote inclusivity and improve productivity. They can also help employers comply with the law and ensure that they have a safe and inclusive work environment.