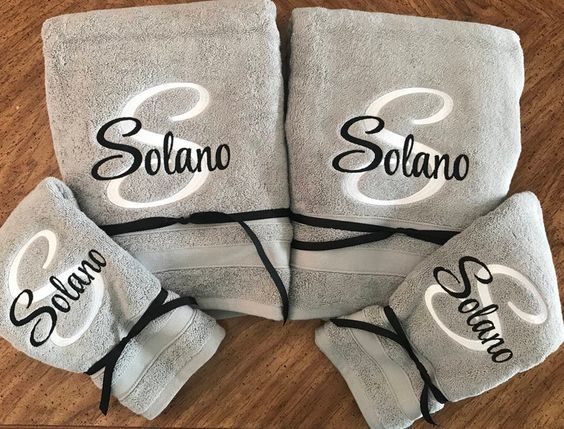 Monogrammed items have always been popular. In the earliest centuries of this form of personalization, they represented wealth and social status. They reflect pride in one's name and provide a tasteful way to say, "this is mine!"
What can be Monogrammed?
Nearly anything you can imagine can sport a monogram! A traditional wedding gift has been Monogrammed Bath Towels
and other linen. It is also becoming popular to give a couple the gift of monogrammed china; it is not as costly as it once was to buy fine china, and many companies offer monograms at no cost.
Aside from wedding gifts, though, a standard item becomes special when you monogram it. An ordinary tie becomes elegant when one's initials are made a part of it, and it tells the world that this person is unique and well thought of. Car dealers are now offering to personalize cars, and you can even get your checks monogrammed.
Hats, particularly baseball-type hats, are enjoying a resurgence, and if you look around, you'll see that many of them have the owner's initials monogrammed on the crown of the hat. Hats for babies are often personalized in this manner, too, much to the delight of the parents.
Doors and house numbers often sport the owners' initials, as do gates. Those are just a few large items that are commonly monogrammed.
Wedding and Baby Showers
It's traditional to have a baby and wedding "showers" for a woman expected to have a child or get married. Men have been getting in on the custom and giving their buddies weddings and baby showers. These occasions are seeing more monogrammed gifts being showered upon the guest of honor as people seek to provide them with something unique that they will be happy to own.
You will see monogrammed towels and possibly even china at a wedding shower, but if you want to be creative and clever, you can give the bride or groom monogrammed sheets or even cookware. Flatware and fine silver are also excellent candidates for monograms and are popular traditional gifts. One Danish royal couple even received a monogrammed lawnmower as a wedding gift! A prospective groom would probably find that a bit ludicrous but would welcome a monogrammed toolbox. Personalized tools are also included, especially when you know the neighbors will be borrowing them!
Baby showers are a little different, as anything goes regarding gifts. Toys, clothing, furniture, and even savings bonds are given at these parties. Baby spoons, dishes, jewelry, blankets, toy boxes, and more are traditionally monogrammed before being presented to the expectant mother. Some of these gifts will undoubtedly be passed down to that same baby's children.
Always in Good Taste
Whatever the occasion you are giving a monogrammed item as a gift, you know it's in good taste and will be appreciated. Depending on the recipient, you can have the initials done in fancy calligraphy, more simple bold letters, or as part of a design that makes the monogram more a part of the item than a showy standout. However you choose to do it, monograms are a distinguished gift that always delights.