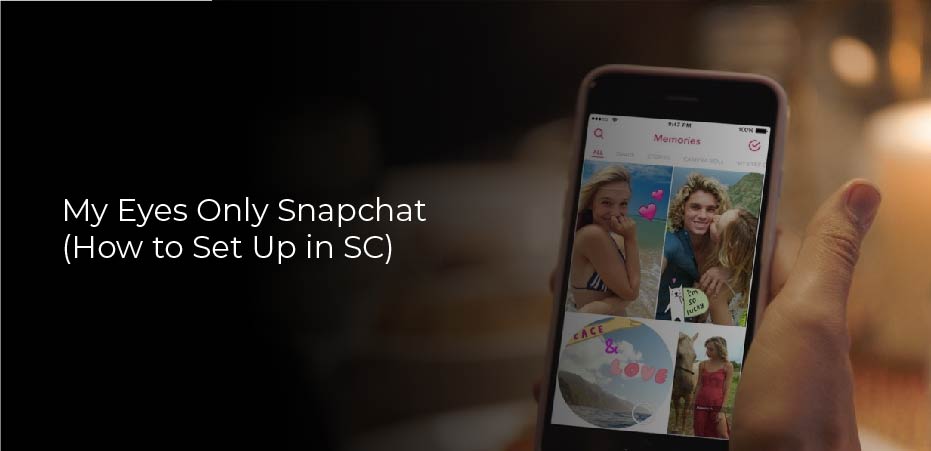 You can save Snaps and Stories from Snapchat to an album called Memories, where they are stored securely. With Snapchat's "My Eyes Only" feature, you can also protect some of those moments even further with a password. You've come to the right place if you want to find out how to get My Eyes Only on Snapchat. An overview of some of its key features will be discussed in this article and how to set it up.
What Are My Eyes Only?
Snapchat introduces My Eyes Only in order to make sure your privacy is protected. Snaps and Stories can be password-protected if you want them to be private. You are the only one who can see them. The password you use for Snapchat will be in addition to your Snapchat login credentials.
Remember that you can reset your My Eyes Only password if you forget it, but any previously saved files will be lost. Snapchat does that to protect your most private files from intruders who may attempt to circumvent its security feature.
How to Set up 'My Eyes Only' on Snapchat
Tap the "Memories" button present to the left of the camera shutter button to launch Snapchat. You can access the "Memories" section by swiping up on the camera viewfinder. Select "My Eyes Only" from the Memories page when it appears.
The first time you use "My Eyes Only," tap the blue "Set Up" button to configure the feature. You'll need to set a 4-digit passcode. Alternatively, you can set a passphrase.
You should confirm your passcode, enable the radio button labeled "I understand that Snapchat will not be able to recover my passcode if I forget it," and tap "Continue."
The 'My Eyes Only' section of Snapchat has now been enabled. You'll learn how to securely move your photo or video to this section to hide it in the next section.
Snapchat: Move Snaps to 'My Eyes Only
You can now easily move sensitive images or videos to the "My Eyes Only" section now that it has been enabled. Follow these steps:
Tap the "Hide" button from the row of options at the bottom of the Snap under the "Snaps" section. Click the "Move to My Eyes Only" button when you see the confirmation message.
Snapchat's "My Eyes Only" feature lets you hide photos from your camera roll from prying eyes. To avoid the original image appearing in apps such as Google Photos, make sure you delete the pop-up.
You can always choose to unhide images from Snapchat's photo vault. Tap the "Unhide" option at the bottom of the screen after long-pressing the image.
Change the 'My Eyes Only' password
Change the passcode for "My Eyes Only" by tapping the "Options" icon at the bottom-right corner of the screen, where you are prompted for the passcode. Select "Change Passcode" from the "Options" pop-up prompt to create a new "My Eyes Only" password.
After entering the current password, you should create a new passcode. Make sure the new passcode is correct, and you are done. If you don't want to forget the passcode, we recommend that you save it in a password manager app. In the following section, you can find instructions on how to reset your Snapchat code if you have forgotten it.
Forgot Snapchat's' My Eyes Only' Passcode? How to Recover It
Before we continue, you should know that resetting your Snapchat 'My Eyes Only' passcode will erase all concealed Snaps from your account. Nevertheless, you can reset your passcode as follows:
Go to the "My Eyes Only" tab under Memories by swiping up on the camera viewfinder. Once you have tapped the "Options" button, choose "Forgot Passcode," and then enter the password for your Snapchat account.
The "I understand that introducing a new passcode will result in the deletion of all Snaps in My Eyes Only" radio button should be selected, and the "Continue" button should be chosen—your "My Eyes Only" section in Snapchat.