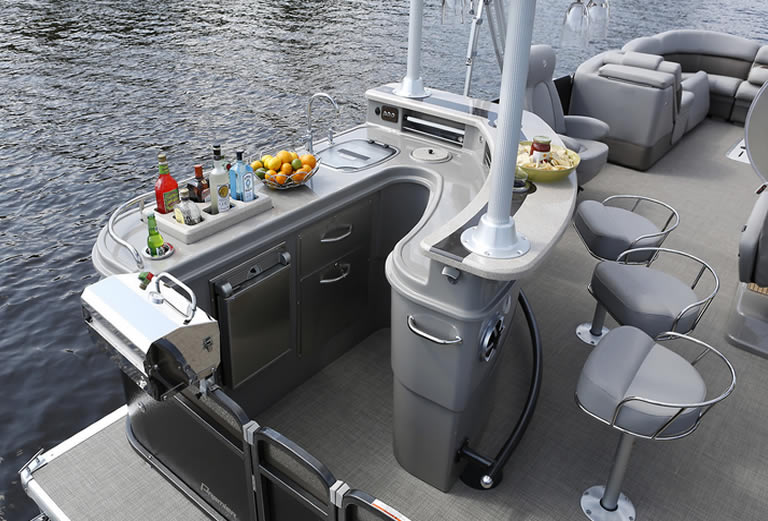 Pontoons are known for their fun and maneuverability because they allow you to travel almost everywhere, but regardless of your location, it's hard to keep in the shade on the open water.
When you're on the pontoon, unless you have some form of protection, you'll be pretty much totally open to things like rain, spray, and ultraviolet rays of the sun. Unwanted exposure to the elements of nature can make it hard to get the most enjoyment out of your pontoon boat, regardless of whether you're fishing, seeing the sights, or having a good time with company. Thus, most pontoon boat pilots call the bimini top a key addition. The bimini name comes from the westernmost island chain in the Bahamas, where anglers originated this type of extended canopy, putting them on their boats to provide protection from the sun.
Now, pontoon bimini tops are available in many different forms to meet the pontoon owner's needs. In terms of materials, there are many choices. There are polyester tops, polyester-cotton blend bimini's, vinyl tops, or quite a few different patented materials. Each option varies in terms of endurance, wrinkle prevention, and cost. These can also have mildew and UV-resistant capabilities. Tubing for bimini tops, which connects the top to the boat, is also available in a number of varieties, among them aluminum and stainless steel.
The standard dimensions for pontoon bimini tops are eight feet by eight feet to eight feet by ten feet, with a height of about 46″ to 60″. Of course, looks are important too; bimini tops are available in a number of colours, so you can find one to match the detailing on your pontoon. There are three basic configurations available: traditional, or a ordinary square or rectangular shape; buggy-style, which has extra flaps which reach downward and attach to the surrounding railing; and extra-long, which extends beyond the cabin for extra sun protection.
In addition to the top itself, it's worth thinking about looking at a storage boot, in which you can easily pack up the top while the pontoon is docked, or even things such as privacy partitions, or towel clips, so that you can hang your towels from the bimini top. Certain dealers sell the various parts including fabric and tubing separately, so you even have the choice to build a bimini top of your own. With so many options out there, there's something to meet the needs of every pontoon boat owner.