Fashion
Steampunk Jewelry Elements (A Guide of 2022)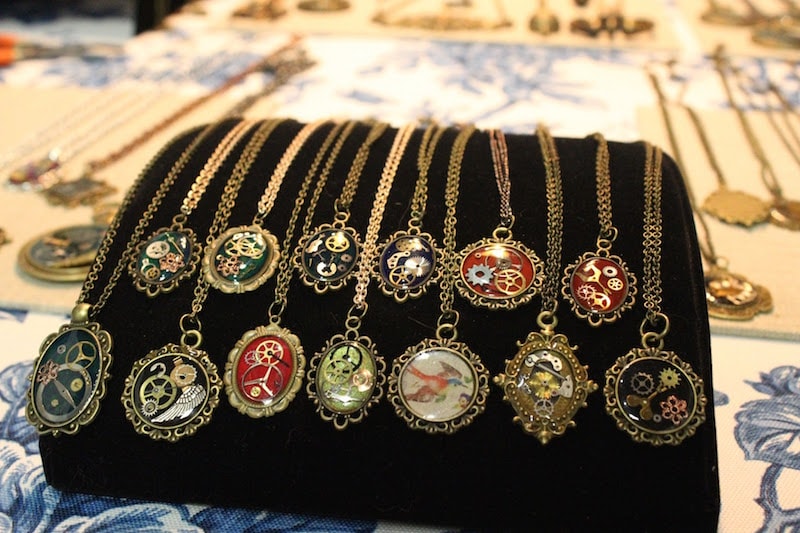 I've been a long-time reader of The Creative Jewelryist for quite some time. I'm a fan of her work, and her site is a great place to start for all things related to jewelry making, especially steampunk. Last year she featured my art in one of her articles about Steampunk jewelry, so I thought I'd follow up on the subject by showing you some of my own work.
In this article, we'll take a look at the steampunk style as it applies to jewelry design. We'll talk about the history of Steampunk jewelry how it developed, and some of the different styles that are associated with the movement. We'll also talk about some of the different types of steampunk jewelry you can make, from simple bracelets and necklaces to more elaborate pieces. The Steampunk Style Steampunk is a style of clothing and accessories that has its roots in science fiction literature. In the late 19th century, authors such as Jules Verne wrote stories about futuristic worlds in which technology was used to create amazing inventions and machines.
What is Steampunk Jewelry
There was a romantic era that embraced arts and beauty and The Steampunk movement aims to bring these two feelings together. In steampunk, steam power was used during a time or "world" that was typically in the Victorian era or the 1800s. The term was first used in the 1980s, and the work that led to its creation (books, movies, even art) goes back even farther – to the 1960s and 1970s. Science-fiction stories set during the steam age of Victorian England contributed to the trend's popularity.
The Elements of Steampunk Jewelry
You probably aren't that fashion conscious but love jewelry that tells a story or carries a sentiment if you're like me. There might be bustles, top hats, and mourning wear in your closet. Alternatively, you might prefer black dreads, dark eyeliner, and a leather holster for your ray gun. If you fit into any of these categories, Steampunk jewelry might be right up your alley.
Victorian England influences the science-fiction genre of steampunk with its fictional characters. Steam power powers the mad scientists and time-travelers who populate these novels rather than nuclear energy. There is a world filled with brass fixtures, steel gadgets, coiled thingamajigs, and glowing orbs. There is an exquisite taste of all things Victorian hums in the background: jet and other fine stones, cameos, silk and taffeta, and charms.
It's easy to design your own Steampunk jewelry using this wildly imaginative genre as your inspiration. Here are a few appropriate Steampunk-inspired materials you might want to check out:
Chains And Metal Findings
Make your Steampunk-style jewelry from brass and copper. They are abundant in most studios of jewelry-makers that I know. These materials reference the Industrial Revolution, when common Victorians suddenly had access to metal that was stamped, pressed, and rolled into chains or filigrees.
Charms And Cameos
Steampunk jewelry uses a lot of cameos because Queen Victoria was a fan of charms and a collector of cameos. If you want to be truly steampunk, include motifs such as flowers, leaves, birds, insects, dragons, snakes, scarabs, and religious symbols.
Glass
Your Steampunk-style jewelry will be more evocative of the Machine Age, in which etched, faceted, and molded Glass were common. The common people had never before been able to afford such luxuries. You can achieve the look by using glass beads, glass domes, and mirrors.
Glass is very malleable, so you can bend it into shapes that are not easily possible with other materials. Glass can also be colored with paints, which is why some steampunk jewelry is painted in vivid colors. You can also use clear Glass to make a clear pendant. If you don't want to paint your jewelry yourself, then you can buy a stained glass pendant or a stained glass necklace. These are available at stores that sell steampunk jewelry. Metal Metal is one of the most common materials used in steampunk jewelry.