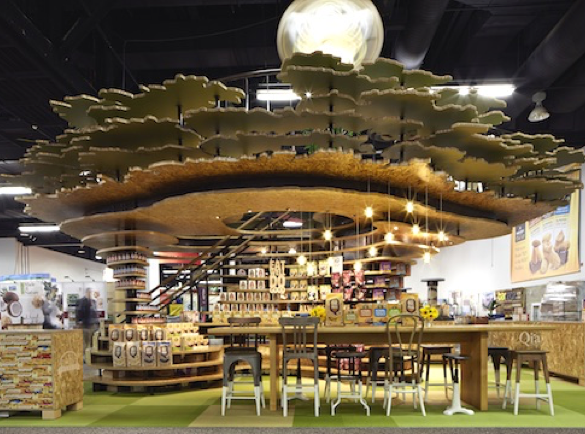 In order to convert leads into clients, you must answer the question "why us?" The first three steps will not do the trick – you will need to emphasize why your company is better than your competitors. In fact, your direct competitors could be sitting just a few stands away. You have to differentiate yourself from them and stress the unique selling points of your company.
Exhibitors have many opportunities to enhance their brand image with branding on their Expo stands. However, they have to choose the right techniques to make their brand stand out. A good way to start is by understanding who will visit their stand. By understanding who will visit your stand, you will be better placed to target potential customers and attract them to your booth.
Expos are the ideal platform to showcase products and services and build a brand image. Although it may seem a challenge to stand out among the crowd, exhibiting in an eye-catching manner will not only give your brand an identity but will help you target the right people. Colours and visual effects are vital in attracting the right kind of attention to your products and services.
The design of your stand should reflect the style and theme of your company. The graphics must be bold and enticing, but they should not overwhelm visitors. Creating an environment where people feel relaxed and engage with your products or services is a good way to increase dwell time. A stand with interactive features will entice visitors and increase brand
In addition to branding on your stand, you should also include innovative ideas. This will help you attract more potential clients and open up new business opportunities. By involving potential clients in interactive activities, you can ensure that they will stay longer and interact with your team.
Exhibition stand design
Exhibition stand design is a critical aspect of marketing your business at exhibitions. A good design will draw attention to your stand and help you convert visitors into customers. A great design is both eye-catching and unique. There are many things you can do to ensure that your stand design stands out from the crowd. These are a few tips to keep in mind when planning your next exhibition.
First, consider the costs of your stand. For your first event, you may have to pay a fixed amount for each item. If you are a first-time exhibitor, make sure to negotiate with the organiser for discounts. They will often offer to cut costs for the stand and promotion. In addition, don't be afraid to build relationships with them.
The right materials can make a big difference in the overall look of your exhibition stand. If you are in the tech industry, you may want to go for a more modern design, and choose materials such as brushed aluminium panels and chrome detailing. On the other hand, if you are in the medical or pharmaceutical industries, you can choose smooth plastic mouldings.
Your exhibition stand design needs to be appealing to your target audience. Keep in mind their needs and wants, as this will help you determine the best way to present your product or message. While it might be easy to impress your audience with a visually appealing stand, you might not be able to attract the right people if it doesn't suit your target market.
Optimising production
Optimising production is an essential aspect of any exhibition stand, as it controls the number of stands available for use at an event. It involves the approval of a project and the creation of the necessary drawings for fabrication. With the use of certain software, production can be optimised by reducing manual work and increasing efficiency.
The warehouse process also helps in optimising costs. It involves storing audio and video equipment, printing equipment, and expositional furniture. A warehouse assembly team differs from the one used in the advertising industry. This helps in reducing the overall costs of an exhibition stand. Furthermore, the logistics involved in the production of an exhibition stand are streamlined and simplified, as well as making the process faster.
When it comes to the production of an exhibition stand, it is important to understand the objectives and goal of the stand before designing it. The designer must also consider the big picture, as the stand will reflect the brand image and the future of the company. Therefore, the stand design should be able to make a statement, which will reflect the status and future of the brand.
The selection of a stand contractor is crucial. Choosing a stand company near the venue will help you control the logistics and keep expenses under control.
There are many costs involved in exhibiting at an expo. These can range from the shipping costs and installation costs to the costs of the materials and labor. The amount you spend on shipping varies depending on your location and the size of your booth. You should also budget for the cost of drayage, which includes the cost of handling and unloading the stand. These expenses can make up about ten percent of your total display budget.
Basic costs for building an exhibit booth range from $60 per cubic metre to nearly $400 per cubic metre. These costs cover everything from construction to the final touches. If you need specialized elements, such as client products or graphics, then you will have to pay additional costs. Finally, if you plan on using the booth again in the future, then you'll have to pay for pallet storage.
The structure is the bulk of your exhibit stand. It sits above the flooring and can integrate your graphics, lighting, and product display. It comes in a variety of finishes and should match your company's branding. You'll also need walls and cabinets for your booth location. The walls and cabinets are typically between $250 and $500 each.
While customising your display can add significant costs to your exhibit, modular solutions are more cost-effective and environmentally friendly. One such modular system is SLIK, a reusable system based on aluminium frame construction. This versatile and portable system can be used for exhibition stands, pop-ups, backdrops, signage, and many other applications.
There are many ways to create unique exhibition stands for an exhibition. One of them is to design an individual stand for your company. You need to figure out what your stand will be used for and how you want to present your company. If you are planning to have a custom stand, you will have to spend a lot of money.
Custom stands are very costly, and they require a large team to build. They can take months to complete. You can get an estimate of how much you can spend on the stand before you begin construction. You can also ask for discounts if you are a first-time exhibitor. Many show organisers offer a range of extra services at a reduced price for first-time exhibitors. These discounts can help you save on other aspects of your stand, including stand promotion.
While you can build a custom stand, it is important to follow the rules of the venue. For example, if your stand is facing the aisle, you must make sure you have sufficient space for your stand's wall space. Otherwise, you could be charged for the space. In addition, you need to make sure you have barrier-free access to your stand.
Another interesting addition to the design of your Expo stand is the use of solar energy. Solar energy is an effective way to generate electricity and keep it functioning, especially in areas where power supplies are scarce. You can also opt for the massive carbon fiber composite cubes by Asif Khan, which open as portals to your Expo site. These massive buildings are 21 meters high and 30 meters wide and are positioned at the entrances to the site.
One of the key steps in designing your Expo stand is considering colour options. The addition of colour to your design is a great way to add excitement to your stand. However, you will need to consider your brand colour scheme and determine whether there is enough room for more colour. If this is the case, creative solutions can be found.
Blue is often associated with professionalism and is one of the most popular colours for a trade show stand. This colour is easy on the eyes and blends well with other colours. Blue works well for both natural and man-made features. It is also a good choice for a base colour. If you're not sure which colour will best suit your brand, take a look at the colour wheel and decide which hues will complement your stand. Remember that colours that are opposite to each other create a bold vibe, while colours next to each other create a more calming vibe.
Black is another colour that attracts attention. It has a wide range of perceptions, from being a traditional and classic colour to being the epitome of sophistication and value. Moreover, black is a safe colour to use in a trade show booth design, as it doesn't have to match with other colours in an unusual way.